Welcome to our monthly trawl for developmental and stem cell biology (and related) preprints.
The preprints this month are hosted on bioRxiv – use these links to get to the section you want.
Developmental biology
| Patterning & signalling
Patterning of phase-separated condensates by Dnd1 controls cell fate
Kim Joana Westerich, Katsiaryna Tarbashevich, Antra Gupta, Mingzhao Zhu, Kenneth Hull, Daniel Romo, Theresa Gross-Thebing, Erez Raz
Regulation of anterior neurectoderm specification and differentiation by BMP signaling in ascidians
Agnès Roure, Rafath Chowdhury, Sébastien Darras
Maternal omega-3 fatty acid deficiency affects fetal thermogenic development and postnatal musculoskeletal growth in mice
Vilasagaram Srinivas, Archana Molangiri, Saikanth Varma, Aswani Mallepogu, Suryam Reddy Kona, Ahamed Ibrahim, Asim K Duttaroy, Sanjay Basak
Concurrent temporal patterning of neural stem cells in the fly visual system
Urfa Arain, Ishrat Maliha Islam, Priscilla Valentino, Ted Erclik
PAR-4/LKB1 regulates intestinal cell number by restricting endoderm specification to the E lineage
Flora Demouchy, Ophélie Nicolle, Grégoire Michaux, Anne Pacquelet
Insulin-like growth factor receptor / mTOR signaling elevates global translation to accelerate zebrafish fin regenerative outgrowth
Victor M. Lewis, Heather K. Le Bleu, Astra L. Henner, Hannah Markovic, Amy E. Robbins, Scott Stewart, Kryn Stankunas
A reevaluation of the relationship between EGL-43 (EVI1/MECOM) and LIN-12 (Notch) during C. elegans anchor cell invasion
Michael A. Q. Martinez, Angelina A. Mullarkey, Callista Yee, Chris Z. Zhao, Wan Zhang, Kang Shen, David Q. Matus
A single amino acid change drives left- right asymmetry in Bilateria
Marta Truchado-García, Kimberly J. Perry, Florencia Cavodeassi, Nathan J. Kenny, Jonathan Q. Henry, Cristina Grande
GPCR signaling promotes severe stress-induced organismic death in C. elegans
Changnan Wang, Yong Long, Bingying Wang, Chao Zhang, Dengke K. Ma
Opposing transcription factors MYCL and HEY1 mediate the Notch-dependent airway stem cell fate decision
Lauren E. Byrnes, Rachel Deleon, Jeremy F. Reiter, Semil P. Choksi
Apical-to-basal graded ROS metabolism in intact Hydra leads to distinct levels of injury-induced ROS signaling in apical and basal regenerating tips
Nenad Suknovic, Silke Reiter-Karam, Osvaldo Chara, Wanda Buzgariu, Denis Martinvalet, Brigitte Galliot
Arterial cells support the development of human hematopoietic progenitors in vitro via secretion of IGFBP2
Paolo Petazzi, Telma Ventura, Francesca Paola Luongo, Alisha May, Helen Alice Taylor, Nicola Romanò, Lesley M. Forrester, Pablo Menéndez, Antonella Fidanza
Early precision of radial patterning of the mouse cochlea is achieved by a linear BMP signaling gradient and is further refined by SOX2
Matthew J. Thompson, Vidhya Munnamalai, David M. Umulis

Modulation of tooth regeneration through opposing responses to Wnt and BMP signals in teleosts
Tyler A. Square, Emma J. Mackey, Zoe Z. Chen, Shivani Sundaram, Craig T. Miller
An FGF Timer for Zygotic Genome Activation
Nicholas Treen, Emily Chavarria, Claire J. Weaver, Clifford P. Brangwynne, Michael Levine
Notch signaling pathway in tooth shape variations
Thimios A. Mitsiadis, Pierfrancesco Pagella, Helder Gomes Rodrigues, Alexander Tsouknidas, Liza L. Ramenzoni, Freddy Radtke, Albert Mehl, Laurent Viriot
Planarian dorsoventral Netrins control a muscle midline signaling center and regulate blastema formation
Erik G. Schad, Christian P. Petersen
Iterative remodeling of the mouse uterus requires Hedgehog signaling
Elle C. Roberson, Ngan Kim Tran, Anushka N. Godambe, Trinity Rust, Michelle Nguimtsop, Harrison Mark, Rebecca D. Fitch, John B. Wallingford
Wnt signaling regulates passive cell competition in the retina by inducing differential cell adhesion
Xuanyu Min, Yingyu Mao, Hao Wu, Josh Bock, Chenqi Tao, Xin Zhang
OVGP1 is an oviductal fluid factor essential particularly for early embryonic development in golden hamsters
Kenji Yamatoya, Masaru Kurosawa, Michiko Hirose, Yoshiki Miura, Hikari Taka, Tomoyuki Nakano, Akiko Hasegawa, Kyosuke Kagami, Hiroshi Yoshitake, Kaoru Goto, Takashi Ueno, Hiroshi Fujiwara, Yoichi Shinkai, Frederick W. K. Kan, Atsuo Ogura, Yoshihiko Araki
Precise temporal control of neuroblast migration through combined regulation and feedback of a Wnt receptor
Erik S. Schild, Shivam Gupta, Clément Dubois, Euclides E. Fernandes Póvoa, Marie-Anne Félix, Andrew Mugler, Hendrik C. Korswagen
Npr3 regulates neural crest and cranial placode progenitors formation through its dual function as clearance and signaling receptor
Arun Devotta, Hugo Juraver-Geslin, Casey Griffin, Jean-Pierre Saint-Jeannet
Puckered in pioneer neurons coordinates the motor activity of the Drosophila embryo
Katerina Karkali, Samuel W. Vernon, Richard A. Baines, George Panayotou, Enrique Martín-Blanco
Dynamics of BMP signaling in the early Drosophila embryo
Hadel Y. Al Asafen, Aydin Beseli, Sharva Hiremath, Cranos M. Williams, Gregory T. Reeves
| Morphogenesis & mechanics
Rho activation drives luminal collapse and eversion in epithelial acini
Vani Narayanan, Purboja Purkayastha, Bo Yu, Kavya Pendyala, Sasanka Chukkapalli, Jolene I Cabe, Richard B. Dickinson, Daniel E. Conway, Tanmay P Lele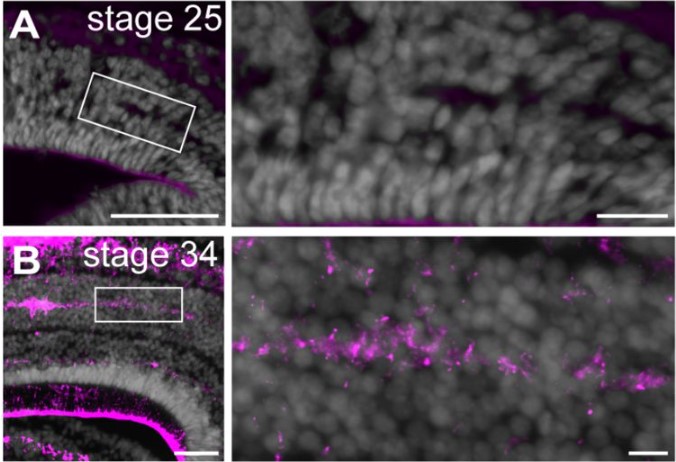 Development of the visual system in social poison frog tadpoles
Julie M. Butler, Jordan McKinney, Sarah C. Ludington, Moremi Mabogunje, Devraj Singh, Scott V. Edwards, Lauren A. O'Connell
Zasp52 strengthens whole embryo tissue integrity through supracellular actomyosin networks
Dina J. Ashour, Clinton H. Durney, Vicente J. Planelles-Herrero, Tim J. Stevens, James J. Feng, Katja Röper
Epithelial Outgrowth Through Mesenchymal Rings Drives Alveologenesis
Nicholas M. Negretti, Yeongseo Son, Philip Crooke, Erin J. Plosa, John T. Benjamin, Christopher S. Jetter, Claire Bunn, Nicholas Mignemi, John Marini, Alice N. Hackett, Meaghan Ransom, David Nichols, Susan H. Guttentag, Heather H. Pua, Timothy S. Blackwell, William Zacharias, David B. Frank, John A. Kozub, Anita Mahadevan-Jansen, Jonathan A. Kropski, Christopher V.E. Wright, Bryan Millis, Jennifer M. S. Sucre
A ratchet-like apical constriction drives cell ingression during the mouse gastrulation EMT
Alexandre Francou, Kathryn V. Anderson, Anna-Katerina Hadjantonakis
Single cell evaluation of endocardial HAND2 gene regulatory networks reveals critical HAND2 dependent pathways impacting cardiac morphogenesis
Rajani M George, Beth A Firulli, Ram Podicheti, Douglas B Rusch, Brandon J Mannion, Len A Pennacchio, Marco Osterwalder, Anthony B Firulli
Heterogeneous migration of neuronal progenitors to the insula shapes the human brain
Arka N. Mallela, Hansen Deng, Ali Gholipour, Simon K Warfield, Ezequiel Goldschmidt
Styxl2 regulates de novo sarcomere assembly by binding to non-muscle myosin IIs and promoting their degradation
Xianwei Chen, Yanfeng Li, Jin Xu, Yong Cui, Qian Wu, Haidi Yin, Yuying Li, Liwen Jiang, Huating Wang, Zilong Wen, Zhongping Yao, Zhenguo Wu
| Genes & genomes
Live imaging reveals chromatin compaction transitions and dynamic transcriptional bursting during stem cell differentiation in vivo
Dennis May, Sangwon Yun, David Gonzalez, Sangbum Park, Yanbo Chen, Elizabeth Lathrop, Biao Cai, Tianchi Xin, Hongyu Zhao, Siyuan Wang, Lauren E. Gonzalez, Katie Cockburn, Valentina Greco
Astrocyte-like glia-specific gene deathstar is crucial for normal development, adult locomotion and lifespan of male Drosophila
Hadi Najafi, Kyle Wong, Ammar Salkini, Hongyu Miao, Woo Jae Kim
Cell division history encodes directional information of fate transitions
Kun Wang, Liangzhen Hou, Zhaolian Lu, Xin Wang, Zhike Zi, Weiwei Zhai, Xionglei He, Christina Curtis, Da Zhou, Zheng Hu
Decoding of YAP levels and dynamics by pluripotency factors
Kirstin Meyer, Nicholas C. Lammers, Lukasz J. Bugaj, Hernan G. Garcia, Orion D. Weiner
Retrotransposon instability dominates the acquired mutation landscape of mouse induced pluripotent stem cells
Patricia Gerdes, Sue Mei Lim, Adam D. Ewing, Michael R. Larcombe, Dorothy Chan, Francisco J. Sanchez-Luque, Lucinda Walker, Alexander L. Carleton, Cini James, Anja S. Knaupp, Patricia E. Carreira, Christian M. Nefzger, Ryan Lister, Sandra R. Richardson, Jose M. Polo, Geoffrey J. Faulkner
Sequencing and chromosome-scale assembly of the giant Pleurodeles waltl genome
Thomas Brown, Ahmed Elewa, Svetlana Iarovenko, Elaiyaraja Subramanian, Alberto Joven Araus, Andreas Petzold, Miyuki Susuki, Ken-ichi T. Suzuki, Toshinori Hayashi, Atsushi Toyoda, Catarina Oliveira, Ekaterina Osipova, Nicholas D. Leigh, Andras Simon, Maximina H. Yun
3D genome topologies distinguish pluripotent epiblast and primitive endoderm cells in the mouse blastocyst
Gesa Loof, Dominik Szabó, Vidur Garg, Alexander Kukalev, Luna Zea-Redondo, Rieke Kempfer, Thomas M. Sparks, Yingnan Zhang, Christoph J Thieme, Sílvia Carvalho, Anja Weise, Milash Balachandran, Thomas Liehr, Lonnie R. Welch, Anna-Katerina Hadjantonakis, Ana Pombo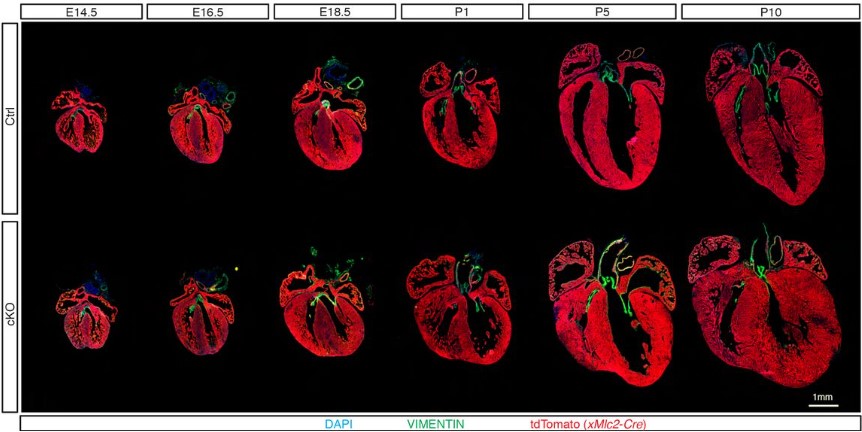 The epigenetic modifier DOT1L regulates gene regulatory networks necessary for cardiac patterning and cardiomyocyte cell cycle withdrawal
Paola Cattaneo, Michael G. B. Hayes, Nina Baumgarten, Dennis Hecker, Sofia Peruzzo, Paolo Kunderfranco, Veronica Larcher, Lunfeng Zhang, Riccardo Contu, Gregory Fonseca, Simone Spinozzi, Ju Chen, Gianluigi Condorelli, Marcel H Schulz, Sven Heinz, Nuno Guimarães-Camboa, Sylvia M. Evans
Temporal and regulatory dynamics of the inner ear transcriptome during development in mice
Rui Cao, Masaki Takechi, Xiuwan Wang, Toshiko Furutera, Taro Nojiri, Daisuke Koyabu, Jun Li
Dietary omega-3 fatty acid deficiency from pre-pregnancy to lactation affects expression of genes involved in neurogenesis of the offspring
Vilasagaram Srinivas, Saikanth Varma, Suryam Reddy Kona, Ahamed Ibrahim, Asim K Duttaroy, Sanjay Basak
Foxp1 acts upstream of Vegfa, suppresses cortical angiogenesis, and promotes hypoxia in radial glia
Caroline A. Pearson, Jessie E. Buth, Michael R.M. Harrison, M. Elizabeth Ross, Bennett G. Novitch
Transcript accumulation rates in the early Caenorhabditis elegans embryo
Priya Sivaramakrishnan, Cameron Watkins, John Isaac Murray
Maternal body condition and season influence RNA deposition in the oocytes of alfalfa leafcutting bees (Megachile rotundata)
Mallory A. Hagadorn, Frances K. Hunter, Tim DeLory, Makenna M. Johnson, Theresa L. Pitts-Singer, Karen M. Kapheim
ASCL1 interacts with the mSWI/SNF at distal regulatory elements to regulate neural differentiation
Oana Păun, Yu Xuan Tan, Harshil Patel, Stephanie Strohbuecker, Avinash Ghanate, Clementina Cobolli-Gigli, Miriam Llorian Sopena, Lina Gerontogianni, Robert Goldstone, Siew-Lan Ang, François Guillemot, Cristina Dias
Chromatin architecture and cis-regulatory landscape of the DACT2-SMOC2 locus in the developing synovial joint
Karol Nowosad, Ewa Hordyjewska-Kowalczyk, Aneta Malesa, Adrian Odrzywolski, Rutger W. W. Brouwer, Petros Kolovos, Ilias Boltsis, Judith C. Birkhoff, Wilfred F. J. van IJcken, Frank G. Grosveld, Andrea Conidi, Danny Huylebroeck, Przemko Tylzanowski
Assessing the influence of distinct IVF culture media on human pre-implantation development using single-embryo transcriptomics
Bastien Ducreux, Julie Barberet, Magali Guilleman, Raquel Pérez-Palacios, Aurélie Teissandier, Déborah Bourc'his, Patricia Fauque
An In Vivo Analysis of the Functional Motifs of DEAD-box RNA Helicase Me31B in Drosophila Fertility and Germline Development
Evan Kara, Aidan McCambridge, Megan Proffer, Carol Dilts, Brooke Pumnea, John Eshak, Korey A. Smith, Isaac Fielder, Dominique A. Doyle, Bianca M. Ortega, Yousif Mukatash, Noor Malik, Ammaar R. Mohammed, Deep Govani, Matthew G. Niepielko, Ming Gao
Irx1 and Irx2 play dose-dependent cooperative functions in mammalian development
Sepideh Sheybani-Deloui, Leo Xu, Lijuan Hu, Qiongjing Yuan, Joe Eun Son, Kyoung-Han Kim, Weifan Liu, Rong Mo, Xiaoyun Zhang, Lijun Chi, Paul Delgado Olguin, Chi-Chung Hui
Single-cell chromatin accessibility of developing murine pancreas identifies cell state-specific gene regulatory programs
Sean de la O, Zhe Liu, Sean Chang, Julie B. Sneddon
Characterization of the Doublesex/MAB-3 transcription factor DMD-9 in Caenorhabditis elegans
Rasoul Godini, Roger Pocock
Heritable changes in chromatin contacts linked to transgenerational obesity
Richard C. Chang, Riann J. Egusquiza, Yikai Huang, Angélica Amorim Amato, Erika M. Joloya, Hailey B. Wheeler, Angela Nguyen, Keiko Shioda, Junko Odajima, Toshi Shioda, Bruce Blumberg
Equalizing epigenetically imprinted centromeres in early mammalian embryos
Gabriel Manske, Kelsey Jorgensen, Binbin Ma, Mansour Aboelenain, Catherine Tower, Saikat Chakraborty, Rajesh Ranjan, Arunika Das, Michael A. Lampson, Ben E. Black, Karen Schindler, Xin Chen, Saher Sue Hammoud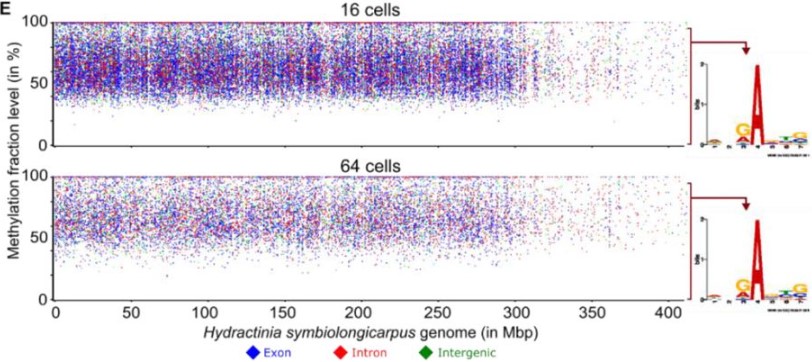 Randomly incorporated genomic 6mA delays zygotic transcription initiation
Febrimarsa, Sebastian G Gornik, Sofia N Barreira, Miguel Salinas-Saavedra, Christine E Schnitzler, Andreas D Baxevanis, Uri Frank
Mettl14-mediated m6A modification ensures the cell cycle progression of late-born retinal progenitor cells
Liang Li, Yue Sun, Alexander E. Davis, Man-Ru Wu, Cheng-Hui Lin, Jun B. Ding, Sui Wang
The identification of a gene expression signature of primordial follicle activation in mouse pregranulosa cells
Emily R Frost, Güneş Taylor, Stefan Boeing, Christophe Galichet, Mark A Baker, Jessie M Sutherland, Robin Lovell-Badge
DNA methylation restricts coordinated germline and neural fates in embryonic stem cell differentiation
Mathieu Schulz, Aurélie Teissandier, Elena de la Mata, Mélanie Armand, Julian Iranzo, Fatima El Marjou, Pierre Gestraud, Marius Walter, Sarah Kinston, Berthold Göttgens, Maxim V.C. Greenberg, Deborah Bourc'his
Zebrafish anterior segment mesenchyme progenitors are defined by function of tfap2a but not sox10
Oliver Vöcking, K Van Der Meulen, M.K Patel, J.K Famulski
Multigenerational effect of heat stress on the Drosophila melanogaster sperm proteome
Shagufta Khan, Rakesh K Mishra
| Stem cells, regeneration & disease modelling
Stress vesicles are induced by acute mechanical force and precede the commitment of epidermal stem cells to terminal differentiation
Sixia Huang, Paola Kuri, Jonathan Zou, Adriana Blanco, Maxwell Marshall, Gabriella Rice, Stephen Prouty, Tzvete Dentchev, Miriam Doepner, Joel D. Boerckel, Brian C. Capell, Todd W. Ridky, Panteleimon Rompolas
Emergency hematopoiesis proceeds without contribution of hematopoietic stem cells
Clara M. Munz, Nicole Dressel, Minyi Chen, Tatyana Grinenko, Axel Roers, Alexander Gerbaulet
Loss of cytoskeletal proteostasis links dysregulation of cell size and mechanotransduction in mesenchymal stem cell senescence
Venkatesh Mallikarjun, Oana Dobre, Mark R. Jackson, Melissa Kidd, Jack Llewellyn, Hamish T. J. Gilbert, Stephen M. Richardson, Joe Swift
PCLAF-DREAM Drives Alveolar Cell Plasticity for Lung Regeneration
Bongjun Kim, Yuanjian Huang, Kyung-Pil Ko, Shengzhe Zhang, Gengyi Zou, Jie Zhang, Moon Jong Kim, Danielle Little, Lisandra Vila Ellis, Margherita Paschini, Sohee Jun, Kwon-Sik Park, Jichao Chen, Carla Kim, Jae-Il Park
A novel de novo FEM1C variant is linked to neurodevelopmental disorder with absent speech, pyramidal signs, and limb ataxia
Abhishek Anil Dubey, Magdalena Krygier, Natalia A. Szulc, Karolina Rutkowska, Joanna Kosińska, Agnieszka Pollak, Małgorzata Rydzanicz, Tomasz Kmieć, Maria Mazurkiewicz-Bełdzińska, Wojciech Pokrzywa, Rafał Płoski
Atf3 defines a population of pulmonary endothelial cells essential for lung regeneration
Terren K. Niethamer, Lillian I. Levin, Michael P. Morley, Apoorva Babu, Su Zhou, Edward E. Morrisey
Engineered vasculature induces functional maturation of pluripotent stem cell-derived islet organoids
Kim-Vy Nguyen-Ngoc, Yesl Jun, Somesh Sai, R. Hugh F. Bender, Vira Kravets, Han Zhu, Christopher J. Hatch, Michael Schlichting, Roberto Gaetani, Medhavi Mallick, Stephanie J. Hachey, Karen L. Christman, Steven C. George, Christopher C.W. Hughes, Maike Sander
Spatiotemporal coordination of stem cell behavior following alveolar injury
Maurizio Chioccioli, Sumner Magruder, John E. McDonough, Jessica Nouws, David Gonzalez, Lucia Borriello, Brian Traub, Xianjun Ye, Caroline E. Hendry, David Entenberg, Smita Krishnaswamy, Naftali Kaminski, Maor Sauler

A stem cell zoo uncovers intracellular scaling of developmental tempo across mammals
Jorge Lázaro, Maria Costanzo, Marina Sanaki-Matsumiya, Charles Girardot, Masafumi Hayashi, Katsuhiko Hayashi, Sebastian Diecke, Thomas B. Hildebrandt, Giovanna Lazzari, Jun Wu, Stoyan Petkov, Rüdiger Behr, Vikas Trivedi, Mitsuhiro Matsuda, Miki Ebisuya
Multi-omics analyses identify transcription factor interplay in corneal epithelial fate determination and disease
Jos GA Smits, Dulce Lima Cunha, Jieqiong Qu, Nicholas Owen, Lorenz Latta, Nora Szentmary, Berthold Seitz, Lauriane N Roux, Mariya Moosajee, Daniel Aberdam, Simon J. van Heeringen, Huiqing Zhou
IGFBP2 expressing midlobular hepatocytes preferentially contribute to liver homeostasis and regeneration
Yu-Hsuan Lin, Yonglong Wei, Yunguan Wang, Chase A. Pagani, Lin Li, Min Zhu, Zixi Wang, Meng-Hsiung Hsieh, Yu Zhang, Tripti Sharma, Tao Wang, Hao Zhu
Maternal age, obesity and hyperglycaemia are associated with a delay in preimplantation development in a mouse model of type 2 diabetes
Joaquín Lilao-Garzón, Yeray Brito-Casillas, Oscar Quesada-Canales, Ana M Wägner, Silvia Muñoz-Descalzo
Alternate Grainy head isoforms regulate Drosophila midgut intestinal stem cell differentiation
Nicole Dominado, Franca Casagranda, James Heaney, Nicole A. Siddall, Helen E. Abud, Gary R. Hime
PRAMEL7/CUL2 axis regulates NuRD stability to establish ground-state pluripotency in embryonic stem cells
Meneka Rupasinghe, Cristiana Bersaglieri, Deena M Leslie Pedrioli, Patrick G. A. Pedrioli, Michael O. Hottiger, Paolo Cinelli, Raffaella Santoro
Impact of carbon monoxide on early cardiac development in an avian model
Filipa Rombo Matias, Ian Groves, Mari Herigstad
Multiple congenital malformations arise from somatic mosaicism for constitutively active Pik3ca signaling
Elise Marechal, Anne Poliard, Kilian Henry, Mathias Moreno, Mathilde Legrix, Nicolas Macagno, Grégoire Mondielli, Teddy Fauquier, Anne Barlier, Heather C. Etchevers
A Canine Model of Chronic Ischemic Heart Failure
Muhammad S. Khan, Douglas Smego, Yuki Ishidoya, Annie M. Hirahara, Emmanuel Offei, Sofia R. Castillo, Omar Gharbia, Joseph A. Palatinus, Lauren Krueger, TingTing Hong, Guillaume L. Hoareau, Ravi Ranjan, Craig Selzman, Robin Shaw, Derek J. Dosdall
Kinetics of blood cell differentiation during hematopoiesis revealed by quantitative long-term live imaging
Kevin Y.L. Ho, Rosalyn L. Carr, Alexandra D. Dvoskin, Guy Tanentzapf
Gastric administration of Cis-9, trans-11 and trans-10, cis-12 conjugated linoleic during the pregestational and gestational periods does not influence the follicular endowment of the progeny
Danielle Storino de Freitas, Guilherme Antonio de Gouvêa Lopes, Barbara Rodrigues Nascimento, Ana Paula Madureira, Paulo Henrique Almeida Campos-Junior
A corset of adhesions during development establishes individual neural stem cell niches and controls adult behaviour
Agata Banach-Latapy, Vincent Rincheval, David Briand, Isabelle Guénal, Pauline Spéder
Cytomegalovirus infection in newborn mice alters cerebellar development by lengthening G1/S phases of cerebellar granule cell precursors during postnatal cerebellar development
Cathy Yea Won Sung, Mao Li, Stipan Jonjic, Veronica Sanchez, William J Britt
Dual states of Bmi1-expressing intestinal stem cells drive epithelial development and tissue regeneration
Nicholas R. Smith, Sidharth K. Sengupta, Patrick Conley, Nicole R. Giske, Christopher Klocke, Brett Walker, Noelle McPhail, John R. Swain, Yeon Jung Yoo, Ashley Anderson, Paige S. Davies, Nasim Sanati, Theresa N. Nguyen, Kristof Torkenczy, Andrew C. Adey, Jared M. Fischer, Guanming Wu, Melissa H. Wong
Purkinje cardiomyocytes of the ventricular conduction system are highly diploid but not regenerative
Hirofumi Watanabe, Ge Tao, Peiheng Gan, Baylee C. Westbury, Kristie D. Cox, Kelsey Tjen, Ruolan Song, Glenn I. Fishman, Takako Makita, Henry M. Sucov
miR-223 Plays A Critical Role in Obesogen-Enhanced Adipogenesis in Mesenchymal Stem Cells and in Transgenerational Obesity
Richard C. Chang, Erika M. Joloya, Zhuorui Li, Bassem M. Shoucri, Toshi Shioda, Bruce Blumberg
Activation of an injury-associated transient progenitor state in the epicardium is required for zebrafish heart regeneration
Yu Xia, Sierra Duca, Björn Perder, Friederike Dündar, Paul Zumbo, Miaoyan Qiu, Jun Yao, Yingxi Cao, Michael R. Harrison, Lior Zangi, Doron Betel, Jingli Cao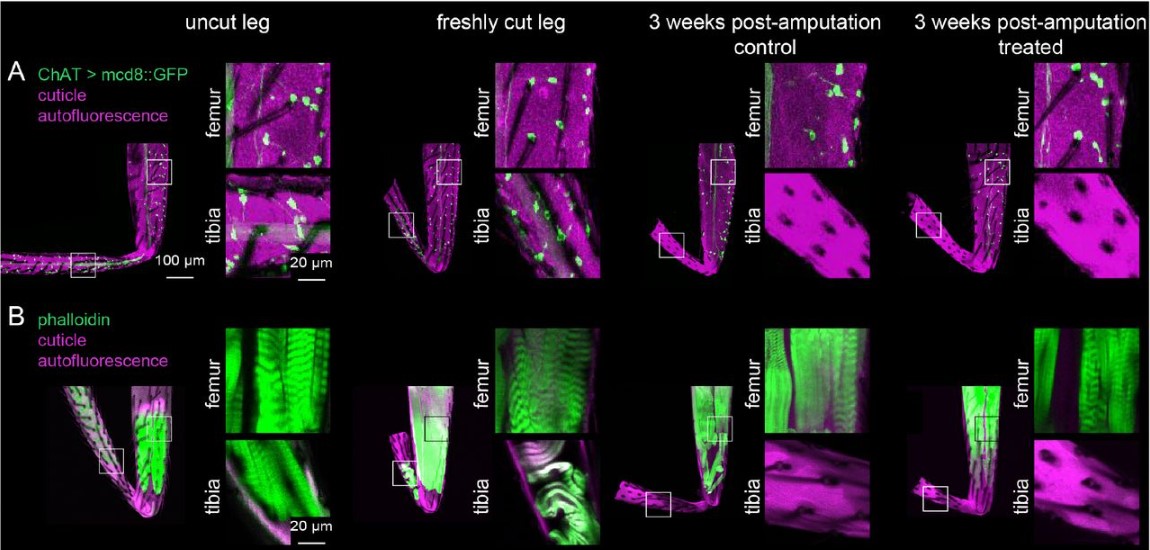 Adult Drosophila legs do not regenerate after amputation
Anne Sustar, John C. Tuthill
Protection from liver cancer in a mouse model of Alagille syndrome follows dysregulated differentiation of thymocytes and hepatocytes
Jan Mašek, Iva Filipovic, Simona Hankeová, Jingyan He, Noémi Van Hul, Lenka Belicová, Markéta Jiroušková, Anna Maria Frontino, Fabio Turetti, Daniel V. Oliveira, Igor Červenka, Lenka Sarnová, Elisabeth Verboven, Tomáš Brabec, Niklas K. Björkström, Martin Gregor, Jan Dobeš, Emma R. Andersson
Rubella virus tropism and single cell responses in human primary tissue and microglia-containing organoids
Galina Popova, Hanna Retallack, Chang N. Kim, David Shin, Albert Wang, Joseph DeRisi, Tomasz J. Nowakowski
Temporal single cell transcriptome atlas of zebrafish anterior segment development reveals high degree of conservation between the trabecular meshwork and the annular ligament
Oliver Vöcking, J.K. Famulski
Dysregulated H19/Igf2 expression disrupts cardiac-placental axis during development of Silver Russell Syndrome-like mouse models
Suhee Chang, Diana Fulmer, Stella K. Hur, Joanne L. Thorvaldsen, Li Li, Yemin Lan, Eric A. Rhon-Calderon, N Adrian Leu, Xiaowen Chen, Jonathan A. Epstein, Marisa S. Bartolomei
| Plant development
HY5 regulates GLK and GNC transcription factors to orchestrate photomorphogenesis in Arabidopsis thaliana
Ting Zhang, Rui Zhang, Xi-Yu Zeng, Lu-Huan Ye, Shi-Long Tian, Yi-Jing Zhang, Wen-Bin Zhou, Xin-Guang Zhu, Peng Wang
The Arabidopsis SHORTROOT network coordinates shoot apical meristem development with auxin dependent lateral organ initiation
Elmehdi Bahafid, Imke Bradtmöller, Ann Marlene Thies, Thi Thuy Oanh Nicole Nguyen, Crisanto Gutierrez, Bénédicte Desvoyes, Yvonne Stahl, Ikram Blilou, Rüdiger Simon
The roles and evolution of the four LEAFY homologues in floral patterning and leaf development in woodland strawberry
Yunming Zhang, Lijun Kan, Shaoqiang Hu, Laichao Cheng, Zhongchi Liu, Chunying Kang
Stomatal regulators are co-opted for seta development in the astomatous liverwort Marchantia polymorpha
Kenta C. Moriya, Makoto Shirakawa, Jeanne Loue-Manifel, Yoriko Matsuda, Yen-Ting Lu, Kentaro Tamura, Yoshito Oka, Tomonao Matsushita, Ikuko Hara-Nishimura, Gwyneth Ingram, Ryuichi Nishihama, Justin Goodrich, Takayuki Kohchi, Tomoo Shimada
Aromatic amino acid biosynthesis by a Lotus Aldolase impacts root hair development and symbiotic associations
Jesús Montiel, Euan K. James, Ivette García-Soto, Dugald Reid, Selene Napsucialy-Mendivil, Joseph G. Dubrovsky, Luis Cárdenas, Jens Stougaard
In vitro floral development in poplar: Insights into seed trichome and trimonoecy regulation
María A. Ortega, Ran Zhou, Margot S.S. Chen, William P. Bewg, Bindu Simon, Chung-Jui Tsai
TPLATE complex dependent endocytosis is required for shoot apical meristem maintenance by attenuating CLAVATA1 signaling
Jie Wang, Qihang Jiang, Roman Pleskot, Peter Grones, Grégoire Denay, Carlos Galván-Ampudia, Elmehdi Bahafid, Xiangyu Xu, Michael Vandorpe, Evelien Mylle, Ive De Smet, Teva Vernoux, Rüdiger Simon, Moritz K. Nowack, Daniel Van Damme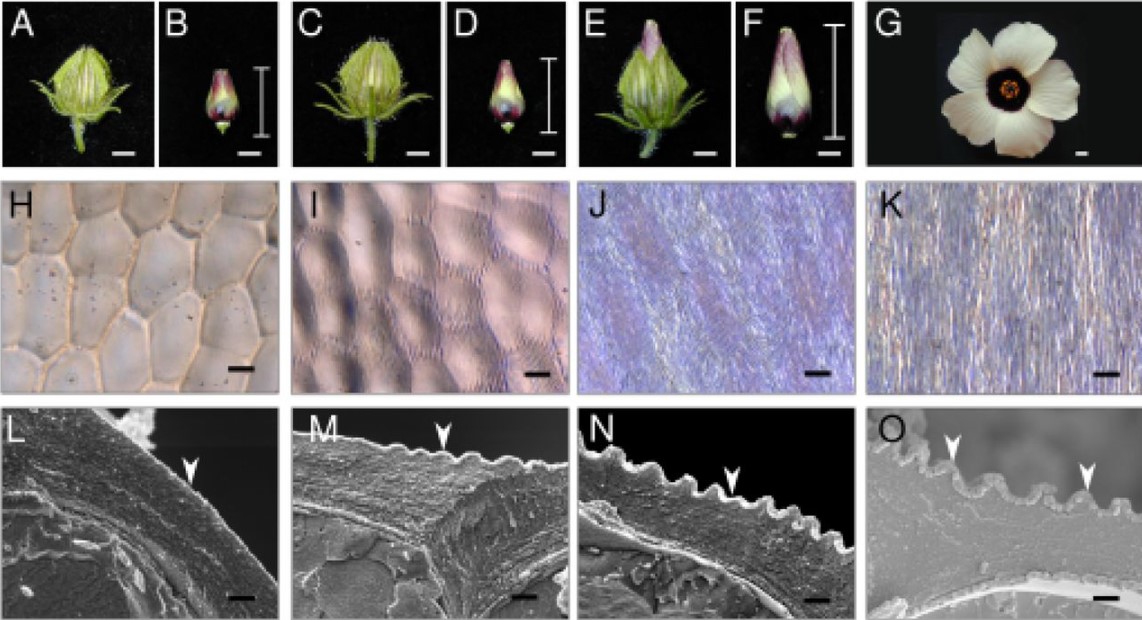 Morphoelastic modeling of pattern development in the petal epidermal cell cuticle
Carlos A. Lugo, Chiara Airoldi, Chao Chen, Alfred J. Crosby, Beverley J. Glover
Mutations in NAKED-ENDOSPERM IDD genes reveal functional interactions with SCARECROW and a maternal influence on leaf patterning in C4 grasses
Thomas E. Hughes, Olga Sedelnikova, Mimi Thomas, Jane A. Langdale
Circular RNAs are Associated with Floral Fate Acquisition in Soybean Shoot Apical Meristem
Saeid Babaei, Mohan B. Singh, Prem L Bhalla
Transcription factor HSFA7b controls ethylene signaling and meristem maintenance at the shoot apical meristem during thermomemory
Sheeba John, Federico Apelt, Amit Kumar, Dominik Bents, Maria Grazia Annunziata, Franziska Fichtner, Bernd Mueller-Roeber, Justyna J. Olas
The trans-regulatory landscape of gene networks in plants
Niklas F. C. Hummel, Andy Zhou, Baohua Li, Kasey Markel, Izaiah J. Ornelas, Patrick M. Shih
HvSL1 and HvMADS16 promote stamen identity to restrict multiple ovary formation in barley
Caterina Selva, Xiujuan Yang, Neil J. Shirley, Ryan Whitford, Ute Baumann, Matthew R. Tucker
A cell size threshold triggers commitment to stomatal fate in Arabidopsis
Yan Gong, Renee Dale, Hannah F. Fung, Gabriel O. Amador, Margot E. Smit, Dominique C. Bergmann
Photosynthetically active radiation is required for seedling growth promotion by volcanic dacitic tuff breccia (Azomite)
Kent F. McCue, Elijah Mehlferber, Robert Reed, Alexis Ortiz, Jon Ferrel, Rajnish Khanna
Uncovering transcriptional regulatory network during regeneration for boosting wheat transformation
Xuemei Liu, Xiaomin Bie, Xuelei Lin, Menglu Li, Hongzhe Wang, Xiaoyu Zhang, Yiman Yang, Chunyan Zhang, Xiansheng Zhang, Jun Xiao
| Evo-devo
Evolutionary responses of energy metabolism, development, and reproduction to artificial selection for increasing heat tolerance in Drosophila subobscura
Andrés Mesas, Luis E. Castañeda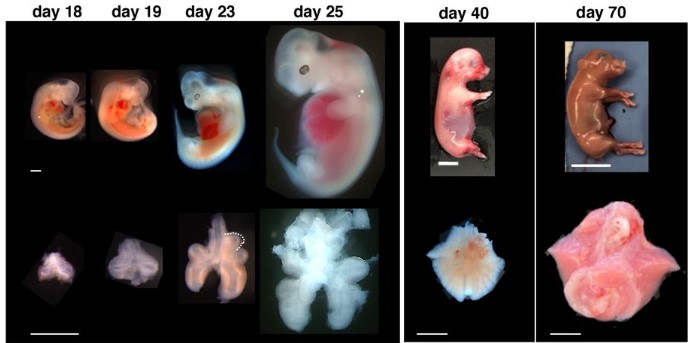 A developmental program that regulates mammalian organ size offsets evolutionary distance
Yuko Shimamura, Junichi Tanaka, Miwako Kakiuchi, Hemanta Sarmah, Akihiro Miura, Youngmin Hwang, Anri Sawada, Zurab Ninish, Kazuhiko Yamada, James J. Cai, Munemasa Mori
β-catenin-dependent endomesoderm specification appears to be a Bilateria-specific co-option
Tatiana Lebedeva, Johan Boström, David Mörsdorf, Isabell Niedermoser, Evgeny Genikhovich, Igor Adameyko, Grigory Genikhovich
Probing the conserved roles of Cut in the development and function of optically different insect compound eyes
Shubham Rathore, Michael Meece, Mark Charlton-Perkins, Tiffany A. Cook, Elke K Buschbeck
Reduction of embryonic E93 expression as a key factor for the evolution of insect metamorphosis
Ana Fernandez-Nicolas, Gabriela Machaj, Alba Ventos-Alfonso, Viviana Pagone, Toshinori Minemura, Takahiro Ohde, Takaaki Daimon, Guillem Ylla, Xavier Belles
Cell Biology
In vivo generation of heart and vascular system by blastocyst complementation
Giulia Coppiello, Paula Barlabé, Marta Moya-Jódar, Gloria Abizanda, Carolina Barreda, Elena Iglesias, Javier Linares, Estibaliz Arellano-Viera, Adrian Ruiz-Villalba, Eduardo Larequi, Xonia Carvajal-Vergara, Beatriz Pelacho, Felipe Prósper, Xabier L. Aranguren
RNA-binding protein Orb2 causes microcephaly and supports centrosome asymmetry in Drosophila neural stem cells
Beverly V. Robinson, Joseph Buehler, Taylor Hailstock, Temitope H. Adebambo, Junnan Fang, Dipen S. Mehta, Dorothy A. Lerit
Ploidy modulates cell size and metabolic rate in Xenopus embryos
Clotilde Cadart, Julianne Bartz, Gillian Oaks, Martin Liu, Rebecca Heald
LSR Targets YAP to Modulate Intestinal Paneth Cell Differentiation
Yanan An, Chao Wang, Baozhen Fan, Ying Li, Feng Kong, Chengjun Zhou, Zhang Cao, Jieying Liu, Mingxia Wang, Hui Sun, Shengtian Zhao, Yongfeng Gong

Attachment/detachment of cortical myosin regulates cell junction exchange during cell rearrangement
Keisuke Ikawa, Shuji Ishihara, Yoichiro Tamori, Kaoru Sugimura
YAP condensates are highly organized hubs for YAP/TEAD transcription
Siyuan Hao, Hannah Fuehrer, Eduardo Flores, Justin Demmerle, Jennifer Lippincott-Schwartz, Zhe Liu, Shahar Sukenik, Danfeng Cai
Mitotic chromosomes scale to nucleo-cytoplasmic ratio and cell size in Xenopus
Coral Y. Zhou, Bastiaan Dekker, Ziyuan Liu, Hilda Cabrera, Joel Ryan, Job Dekker, Rebecca Heald
Sexual dimorphic regulation of recombination by the synaptonemal complex
Cori K. Cahoon, Colette M. Richter, Amelia E. Dayton, Diana E. Libuda
Cytoophidia maintain the integrity of Drosophila follicle epithelium
Qiao-Qi Wang, Dong-Dong You, Ji-Long Liu
Hypodermal ribosome synthesis inhibition induces a nutrition-uncoupled organism-wide growth quiescence in C. elegans
Qiuxia Zhao, Rekha Rangan, Shinuo Weng, Cem Özdemir, Elif Sarinay Cenik
Transcriptional regulation and repressive condensates modulate a proliferative-invasive cellular switch in vivo
Taylor N. Medwig-Kinney, Brian A. Kinney, Michael A. Q. Martinez, Callista Yee, Sydney S. Sirota, Angelina A. Mullarkey, Neha Somineni, Justin Hippler, Wan Zhang, Kang Shen, Christopher M. Hammell, Ariel M. Pani, David Q. Matus
Cell-intrinsic and -extrinsic functions of the ESCRT-III component Shrub in cytokinetic abscission of Drosophila Sensory Organ precursor
Céline Bruelle, Mathieu Pinot, Emeline Daniel, Marion Daudé, Juliette Mathieu, Roland Le Borgne
Modelling
Design principles for selective polarization of PAR proteins by cortical flows
Rukshala Illukkumbura, Nisha Hirani, Joana Borrego-Pinto, Tom Bland, KangBo Ng, Lars Hubatsch, Jessica McQuade, Robert G. Endres, Nathan W. Goehring
Phloem anatomy restricts root system architecture development: theoretical clues from in silico experiments
Xiao-Ran Zhou, Andrea Schnepf, Jan Vanderborght, Daniel Leitner, Harry Vereecken, Guillaume Lobet
Emergence of planar cell polarity from the interplay of local interactions and global gradients
Divyoj Singh, Sriram Ramaswamy, Mohit Kumar Jolly, Mohd. Suhail Rizvi
Computing Minimal Boolean Models of Gene Regulatory Networks
Guy Karlebach, Peter N Robinson
Brain tissue mechanics is governed by microscale relations of the tissue constituents
P. Sáez, C. Borau, N. Antonovaite, K. Franze
Causal models of human growth and their estimation using temporally-sparse data
John A. Bunce, Catalina I. Fernández, Caissa Revilla Minaya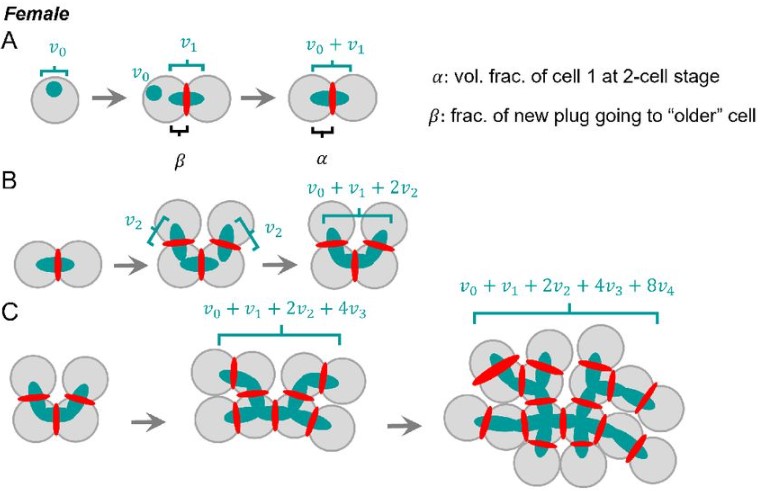 Fusome topology and inheritance during insect gametogenesis
Rocky Diegmiller, Jasmin Imran Alsous, Duojia Li, Yukiko M. Yamashita, Stanislav Y. Shvartsman
Cellular compartmentalisation and receptor promiscuity as a strategy for accurate and robust inference of position during morphogenesis
Krishnan S Iyer, Chaitra Prabhakara, Satyajit Mayor, Madan Rao
Tools & Resources
Expanded FLP toolbox for spatiotemporal protein degradation and transcriptomic profiling in C. elegans
Adrián Fragoso-Luna, Raquel Romero-Bueno, Michael Eibl, Cristina Ayuso, Celia Muñoz-Jiménez, Vladimir Benes, Ildefonso Cases, Peter Askjaer
Time-lapse mechanical imaging of neural tube closure in live embryo using Brillouin microscopy
Chenchen Handler, Giuliano Scarcelli, Jitao Zhang
Efficient and rapid fluorescent protein knock-in with universal donors in mammalian stem cells
Yu Shi, Nitya Kopparapu, Lauren Ohler, Daniel J. Dickinson
An integrated cell barcoding and computational analysis pipeline for scalable analysis of differentiation at single-cell resolution
Sophie Shen, Tessa Werner, Yuliangzi Sun, Woo Jun Shim, Samuel Lukowski, Stacey Andersen, Han Sheng Chiu, Di Xia, Duy Pham, Zezhuo Su, Daniel Kim, Pengyi Yang, Xiaoli Chen, Men Chee Tan, Joseph E. Powell, Patrick P. L. Tam, Mikael Bodén, Joshua W. K. Ho, Quan Nguyen, Nathan J. Palpant
Single-cell transcriptomic atlas reveals increased regeneration in diseased human inner ears
Tian Wang, Angela H. Ling, Sara E. Billings, Davood K. Hosseini, Yona Vaisbuch, Grace S. Kim, Patrick J. Atkinson, Zahra N. Sayyid, Ksenia A. Aaron, Dhananjay Wagh, Nicole Pham, Mirko Scheibinger, Akira Ishiyama, Peter Santa Maria, Nikolas H. Blevins, Robert K. Jackler, Stefan Heller, Ivan A. Lopez, Nicolas Grillet, Taha A. Jan, Alan G. Cheng
RAPTOR: A Five-Safes approach to a secure, cloud native and serverless genomics data repository
Chih Chuan Shih, Jieqi Chen, Ai Shan Lee, Nicolas Bertin, Maxime Hebrard, Chiea Chuen Khor, Zheng Li, Joanna Hui Juan Tan, Wee Yang Meah, Su Qin Peh, Shi Qi Mok, Kar Seng Sim, Jianjun Liu, Ling Wang, Eleanor Wong, Jingmei Li, Aung Tin, Ching-Yu Chen, Chew-Kiat Heng, Jian-Min Yuan, Woon-Puay Koh, Seang Mei Saw, Yechiel Friedlander, Xueling Sim, Jin Fang Chai, Yap Seng Chong, Sonia Davila, Liuh Ling Goh, Eng Sing Lee, Tien Yin Wong, Neerja Karnani, Khai Pang Leong, Khung Keong Yeo, John C Chambers, Su Chi Lim, Rick Siow Mong Goh, Patrick Tan, Rajkumar Dorajoo
Multiomic single-cell lineage tracing to dissect fate-specific gene regulatory programs
Kunal Jindal, Mohd Tayyab Adil, Naoto Yamaguchi, Helen C. Wang, Xue Yang, Kenji Kamimoto, Guillermo C. Rivera-Gonzalez, Samantha A. Morris
An expandable FLP-ON::TIR1 system for precise spatiotemporal protein degradation in C. elegans
Yutong Xiao, Callista Yee, Michael A. Q. Martinez, Chris Z. Zhao, Wan Zhang, Kang Shen, David Q. Matus, Christopher Hammell
Chimeric 3D-gastruloids – a versatile tool for studies of mammalian peri-gastrulation development
Alexandra E. Wehmeyer, Katrin M. Schüle, Alexandra Conrad, Chiara M. Schröder, Simone Probst, Sebastian J. Arnold
Machine-guided cell-fate engineering
Evan Appleton, Jenhan Tao, Greg Fonseca, Songlei Liu, Christopher Glass, George Church
A fast and versatile method for simultaneous HCR, immunohistochemistry and EdU labeling (SHInE)
Aida Ćorić, Alexander W. Stockinger, Petra Schaffer, Dunja Rokvić, Kristin Tessmar-Raible, Florian Raible
An optimized Tet-On system for conditional control of gene expression in sea urchins
Jian Ming Khor, Charles A. Ettensohn

Single cell transcriptomic comparison between mouse embryonic pancreas and pancreatic organoids generated from mouse embryonic stem cell-derived mesoderm and pancreatic progenitors
Shlomit Edri, Vardit Rosenthal, Or Ginsburg, Abigail Newman Frisch, Christophe E. Pierreux, Nadav Sharon, Shulamit Levenberg
Post-pubertal developmental trajectories of laryngeal shape and size in humans
Tobias Riede, Amy Stein, Karen L. Baab, Joseph M. Hoxworth
Dissecting infant leukemia developmental origins with a hemogenic gastruloid model
Denise Ragusa, Chun-Wai Suen, Gabriel Torregrosa Cortés, Liza Dijkhuis, Connor Byrne, Giulia-Andreea Ionescu, Joana Cerveira, Kamil R. Kranc, Anna Bigas, Jordi Garcia-Ojalvo, Alfonso Martinez Arias, Cristina Pina
Charting the development of Drosophila leg sensory organs at single-cell resolution
Ben R. Hopkins, Olga Barmina, Artyom Kopp
Integrated transcriptome and proteome analysis in human brain organoids reveals translational regulation of ribosomal proteins
Jaydeep Sidhaye, Philipp Trepte, Natalie Sepke, Maria Novatchkova, Michael Schutzbier, Gerhard Dürnberger, Karl Mechtler, Jürgen A. Knoblich
Rabbit Development as a Model for Single Cell Comparative Genomics
Mai-Linh N. Ton, Daniel Keitley, Bart Theeuwes, Carolina Guibentif, Jonas Ahnfelt-Rønne, Thomas Kjærgaard Andreassen, Fernando J. Calero-Nieto, Ivan Imaz-Rosshandler, Blanca Pijuan-Sala, Jennifer Nichols, Èlia Benito-Gutiérrez, John C. Marioni, Berthold Göttgens
Single cell transcriptomics of human prenatal anterior foregut-derived organs identifies distinct developmental signatures directing commitment and specialization of the thymic epithelial stroma
Abdulvasey Mohammed, Priscila F. Slepicka, Benjamin Solomon, Kelsea M. Hubka, Michael G. Chavez, Christine Y. Yeh, Virginia D. Winn, Casey A. Gifford, Purvesh Khatri, Andrew Gentles, Katja G. Weinacht
Developmental staging of the complete life cycle of the model marine tubeworm Hydroides elegans
Katherine T. Nesbit, Nicholas Shikuma
Alternative culture systems for bovine oocyte in vitro maturation: liquid marbles and differentially shaped 96-well plates
Andrea Fernández-Montoro, Daniel Angel-Velez, Camilla Benedetti, Nima Azari-Dolatabad, Osvaldo Bogado Pascottini, Krishna Chaitanya Pavani, Ann Van Soom
Comprehensive cell atlas of the first-trimester developing human brain
Emelie Braun, Miri Danan-Gotthold, Lars E. Borm, Elin Vinsland, Ka Wai Lee, Peter Lönnerberg, Lijuan Hu, Xiaofei Li, Xiaoling He, Žaneta Andrusivová, Joakim Lundeberg, Ernest Arenas, Roger A. Barker, Erik Sundström, Sten Linnarsson
Research practice & education
A national professional development program fills mentoring gaps for postdoctoral researchers
Ting Sun, Denise Drane, Richard McGee, Henry Campa III, Bennett B Goldberg, Sarah Chobot Hokanson
"Wissenschaft fürs Wohnzimmer" – two years of interactive, scientific livestreams weekly on YouTube
Nicolas Stoll, Matthias Wietz, Stephan Juricke, Franziska Pausch, Corina Peter, Jana C. Massing, Miriam Seifert, Moritz Zeising, Melissa Käß, Rebecca McPherson, Björn Suckow
Collaborative partnership model to transform bioinformatics core into a highly effective research partner and multiply the impact
R. Krishna Murthy Karuturi, Govindarajan Kunde-Ramamoorthy, Gregg TeHennepe, Joshy George, Vivek Philip
Preprint peer review enhances undergraduate biology students' disciplinary literacy and sense of belonging in STEM
Josie L. Otto, Gary S McDowell, Meena M. Balgopal, Rebeccah S Lijek
A survey to assess animal methods bias in scientific publishing
Catharine E. Krebs, Ann Lam, Janine McCarthy, Helder Constantino, Kristie Sullivan
Preparing future STEM faculty nationwide through flexible teaching professional development
B. B. Goldberg, D. Bruff, R. Greenler, K. Barnicle, N. Green, L. E. P. Campbell, S. L. Laursen, M. Ford, A. Serafini, C. Mack, T. Carley, C. Maimone, H. Campa III
Running System of Flipped Teaching Based on Video Conference
Xiao-Yu Zhang
Are female scientists underrepresented in self-correcting science for honest error?
MD Ribeiro, J Mena-Chalco, KA Rocha, M Pedrotti, P Menezes, SMR Vasconcelos
Gender-based disparities and biases in science: an observational study of a virtual conference
Junhanlu Zhang, Rachel Torchet, Hanna Julienne
Global disparities in plant science: a legacy of colonialism, patriarchy, and exclusion
Rose A. Marks, Erik J. Amézquita, Sarah Percival, Alejandra Rougon-Cardoso, Claudia Chibici-Revneanu, Shandry M. Tebele, Jill M. Farrant, Daniel H. Chitwood, Robert VanBuren
The faculty-to-faculty mentorship experience: a survey on challenges and recommendations for improvements
Sarvenaz Sarabipour, Steven J Burgess, Natalie M Niemi, Christopher T Smith, Alexandre W Bisson Filho, Ahmed Ibrahim, Kelly Clark
The Gender Gap Amongst Doctoral Students in the Biomedical Sciences
Michael D. Schaller
A cost-free CURE: Using bioinformatics to identify DNA-binding factors at a specific genomic locus
Casey A. Schmidt, Lauren J. Hodkinson, H. Skye Comstra, Leila E. Rieder
Career Self-Efficacy Disparities in Underrepresented Biomedical Scientist Trainees
Deepshikha Chatterjee, Gabrielle A. Jacob, Susi Sturzenegger Varvayanis, Inge Wefes, Roger Chalkley, Ana T. Nogueira, Cynthia N. Fuhrmann, Janani Varadarajan, Nisan M. Hubbard, Christiann H. Gaines, Rebekah L. Layton, Sunita Chaudhary
The post October in preprints appeared first on the Node.