Pineapple Dole Whip Recipes Released By Disney!
Written By: Adam Pick, Patient Advocate, Author & Website Founder
Published: September 7, 2022
This is way off-topic… But, hopefully helpful and maybe even fun!
Like many parts of the planet, this summer has been really hot in Southern California where I live. Recently, however, Robyn (my wife), Ethan (my son), and I decided to brave the heat and go to Disneyland in Anaheim, California.
Dole Whip at Disneyland
It was our first time going to Disneyland in 7 years. So, we were really excited to experience the new Star Wars rides including "Rise of the Resistance" and "Millennium Falcon: Smuggler's Run". (So you knoow, I'm a huge Star Wars fan.)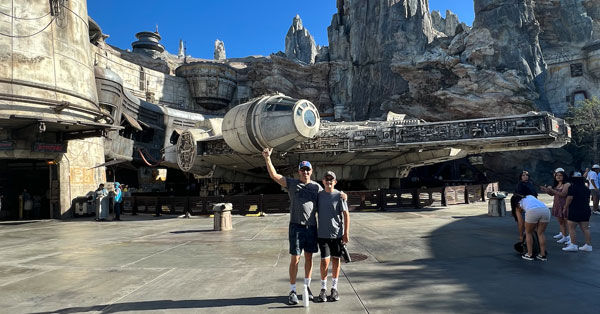 Ethan & Me at Millennium Falcon: Smuggler's Run
Disney Releases Dole Whip Recipes!
As you can see above, we had a fun time at Disneyland. The only challenge was the heat.
The saving grace of our time at Disneyland was their famous Pineapple Dole Whip available near the Tiki lounge. If you haven't had one of these Dole Whips, they are incredibly tasty and… COLD!!! You can learn about the interesting history of the Dole Whip in this video.
Anyways… A few days after we got back from Disneyland, I was sweating bullets after doing some gardening in the afternoon heat. I looked at Robyn and said, "I would give anything for a Dole Whip!" Robyn immediately said, "Me too!"
I then wondered, "Are there any recipes on the Internet for making Dole Whips at home?"
I was amazed to learn that Disney actually released its official Dole Whip recipe during the COVID-19 pandemic. Interestingly, there are only a few ingredients in the Dole Whip recipe which includes vanilla ice cream, frozen pineapple chunks and pineapple juice. Fyi, this is the non-vegan recipe.
There are bunches of videos on YouTube about the vegan and non-vegan Dole Whip recipes. Here's one video you may want to check out:
I hope you enjoy a Dole Whip if you chose to make it home!
Keep on tickin!
Adam