Renew Your Smile With Dental Implants In Concord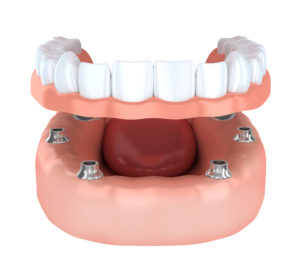 You've lived with dentures for a while now – but no matter how much time passes, you still can't get used to the wiggling that sometimes happen. You wish there was some alternative, but since you've had an entire row of teeth taken out, there's nothing you can do except learn to live with your false teeth – right? Luckily for you, the team at Generations Dental Care offers dental implants in Concord that can be used in conjunction with dentures to give you the best of both worlds and restore the winning smile you remember.
What Are All-On-4 Dental Implants?
As your trusted periodontist and dentist in Concord, Dr. Jonell Hopeck prides herself on offering some of the most innovative restorative solutions, no matter how minor – or major – your tooth loss is. With All-On-4 dental implants, we're able to replace up to an entire arch of missing teeth. These consist of three basic pieces:
Implant Posts – The secure foundation for your restored smile is the titanium implant post itself. This will be surgically placed in your jaw and will actually help increase the density of your natural bone tissue. Like it sounds, with All-On-4 implant-retained dentures, you'll have four posts placed for each arch of teeth.
Abutment – This is the part of the implant that links the titanium post to the natural-looking dentures that snap in to give you a secure fit.
Implant-Retained Dentures – These are the long-lasting, life-like artificial teeth. They're similar to your former dentures because they can be removed and cleaned in the same way, but they're an upgrade since they won't wiggle or cause embarrassing slippage when you speak or chew.
And, even if you don't need a full row of teeth replaced with our solutions, we can improve the functionality and look of your smile with implant-retained partial dentures, or single dental implants. Regardless of the amount of your missing teeth, we have options that will make your smile look and feel great.
Why Should I Opt For Implant-Retained Dentures?
Dental implants are the superior solution over partial and full dentures for several reasons, including:
Unlike dentures and partials that wear away your jaw with continual pressure to the ridges of your natural dental structures, implant-retained dentures increase the strength and density of this bone.
If you're tired of messy dental adhesives, implant-retained dentures are a great solution for you.
Rather than dentures that you'll need to replace about every 5 years, you'll be impressed by the long-lasting nature of our implant-retained dentures.
For the most life-like, secure solution, you can rely on All-On-4 dental implants to look natural and help you smile, chew, and speak with confidence.
Now that you know that you have other options aside from traditional dentures, partials, and bridges, schedule your appointment for a consultation with Generations Dental Care today!
The post Renew Your Smile With Dental Implants In Concord appeared first on Generations Dental Blog.