4 simple, healthy, summer recipes for your whole fam
We love summer. Here in Michigan, we take full advantage of the 12-ish weeks of sunshine and heat we get. And as the weather heats up, our taste buds look for lighter, fresher, healthier options to combat the inevitable food coma that comes along with a heavy meal.
We've got four of favorite recipes that come together quickly, have fresh flavors, and are light enough to fit into your healthy lifestyle.
Honey-Lime Chicken with Pineapple Salsa
Ingredients
Juice of 4 limes, divided
1/4 c. extra-virgin olive oil
1/4 c. plus 1 tbsp. chopped fresh cilantro
2 tsp. honey
kosher salt
1 lb. boneless skinless chicken breasts
2 c. chopped pineapple
1 avocado, diced
1/4 red onion, diced
Freshly ground black pepper
Marinate and grill the chicken, then stir together the salsa – and dinner is served.
Get the full list of instructions.
Corn and Summer Veggie Saute

Ingredients:
1 tablespoon canola oil
1/2 cup chopped green onions (about 4)
1 garlic clove, minced
1 cup sliced fresh okra (about 4 ounces)
1 cup chopped red bell pepper (about 1)
1 finely chopped seeded jalapeño pepper
1 cup fresh corn kernels (about 2 ears)
1 (15-ounce) can black beans, rinsed and drained
1/3 cup minced fresh cilantro
1/8 teaspoon salt
1/8 teaspoon freshly ground black pepper
Chop, saute and sprinkle is all this takes.
Get the full list of instructions.
Extra-Juicy Turkey Burgers
Ingredients:
2 avocados, divided
2 tsp. Worcestershire sauce
1 tsp. garlic powder
1 tsp. ground cumin
3 Tbsp. plus ½ cup mayonnaise
4 tsp. Sriracha, divided
1½ tsp. kosher salt, plus more
½ medium red onion, divided
1 lb. ground turkey
4 Tbsp. extra-virgin olive oil, divided, plus more for greasing
3 cups very thinly sliced red cabbage (from ¼ medium head)
2 Tbsp. fresh lime juice, divided
4 hamburger buns, toasted
Avocados mixed with ground turkey add fat and flavor to an often bland turkey burger.
Get the full list of instructions.
Unicorn Smoothie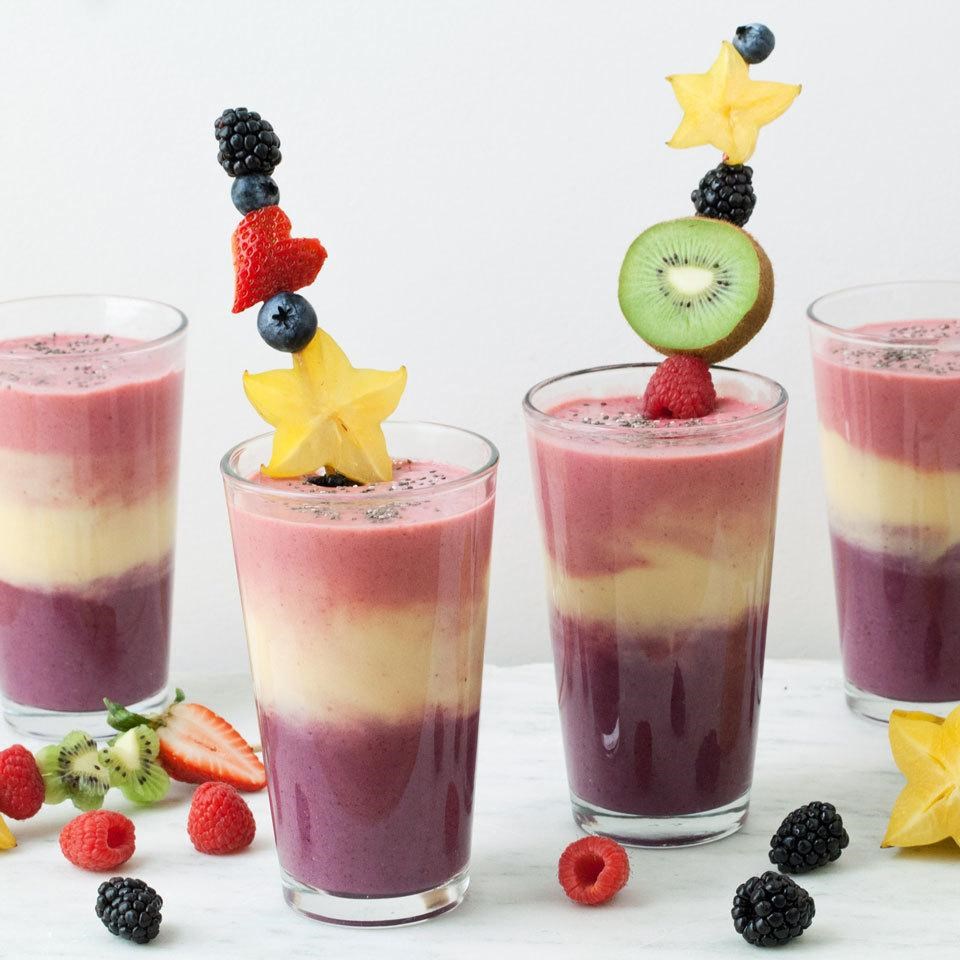 Ingredients:
1½ cups low-fat milk, divided
1½ cups low-fat vanilla yogurt, divided
3 large bananas, divided
1 cup frozen blackberries or blueberries
1 cup frozen mango chunks
1 cup frozen raspberries or strawberries
Star fruit, kiwi, mixed berries and chia seeds for garnish
Don't forget your fruits with this adorable and tasty unicorn smoothie. Substitute almond or coconut milk to lower the dairy.