Your Dentist in Richmond, TX, Discusses Oral Health and Pregnancy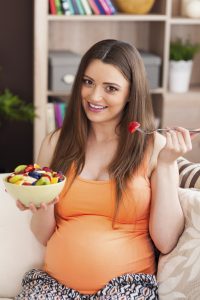 Congratulations! You're expecting! Dr. Vong and the entire staff at VL Dental want to wish your and your growing family all the best during this special time in your life. And along with those good wishes, your dentist in Richmond, TX, wants to help you maintain your oral health while you are pregnant. There are special oral health considerations to be aware of during pregnancy. Let's review some of them, so you can keep your beautiful and healthy smile for the next nine months and beyond!
Dental Checkups
While you are pregnant, there is no reason not to see the dentist. To the contrary, maintaining your regularly scheduled dental cleanings and exams is vital to your oral health and the health of your pregnancy.
In particular, your 77406 dentist Dr. Vong will carefully examine your gums for any signs of periodontal disease. Many pregnant women experience pregnancy gingivitis. This early stage of gum disease happens when plaque accumulates along the gum line. Hormone levels that increase during pregnancy can impact the way your gums react to the bacteria and toxins in plaque.
If you notice that your gums become more sensitive during pregnancy, or if they look swollen and bleed, then call VL Dental to schedule an appointment.
Morning Sickness and Oral Health
Morning sickness is a common symptom among women who are pregnant, and it can actually strike during anytime of the day. Unfortunately for some women, morning sickness not only includes nausea but vomiting, as well. In this case, the stomach acid that reaches your mouth can begin to erode your teeth. If you can, brush your teeth or at least rinse your mouth with water to reduce the level of acid in your mouth. The good news is that morning sickness usually does not last beyond the first trimester.
Pregnancy Tumors
With changing hormone levels and increases blood volume, some women develop pregnancy tumors. These completely benign growths develop near the gum line and usually look like a puffy red lump. If large enough, they can make chewing uncomfortable. Most pregnancy tumors disappear once your baby is born. However, if one of these tumors is particularly bothersome, then call Dr. Vong. Using a local anesthetic, she can easily remove it.
Call Your Dentist in Richmond, TX
If you are due for one of your regular dental checkups during your pregnancy, or to get the next nine months off to a good start for your oral health, then call VL Dental in Richmond, TX, today. We look forward to helping you smile throughout your pregnancy!
The post Your Dentist in Richmond, TX, Discusses Oral Health and Pregnancy appeared first on VL Dental Blog.